Ginger Lynn:
In the time between the 'Morals Committee' handing down its recommendations and Bob Hawke's Labor Caucus meeting, AVIA decided to bring some style to the debate as well as some substance. John Lark invited the USA's top porn actress of the day, Ginger Lynn, to come to Australia and spruik on behalf of the industry. Not only was she an attractive and intelligent actress, she was also an astute judge of character and knew how to play media. On arriving in Australia, AVIA mapped out a tour schedule for her that included media opportunities with her patting kangaroos at tourist parks, meeting with politicians and senior bureaucrats and culminated in a major press conference on the steps of Parliament House. She had been given a copy of the Committee's report and other supportive findings from the Australian Institute of Criminology. She was to prove a formidable adversary and a thorn in the side of Brian Harradine and Shirley Walters. These two thought they had the cat in the bag following the united and reinvigorated ban on X put forward by the state Premiers and the shelving of the NVE proposal from the Senate Committee.
Ginger's four day media tour saw her appear on 60 Minutes and articles about her views appeared in most of the major newspapers. Phillip Adams interviewed her on 2UE for over an hour and drew comparison's between her and Marilyn Monroe. Pru Goward (NSW government) interviewed her on 2CN. As a nursing mother at the time, Pru was later heard discussing motherhood with Ginger in the foyer of the ABC. TV host, Don Lane, told her he didn't know how to express his feelings for her! Her press conference on the steps of Parliament House was billed by the Daily Telegraph as the largest press gallery event since Gough Whitlam had been sacked in 1972. On the TEN Network, Larry Emdur said that Ginger had been treated more seriously than Ronald Reagan's old Secretary of Defence, Casper Weinberger. The Age newspaper said it rated bigger and better than Andrew Peacock's dumping as Liberal leader.
Most importantly, all of Labor's Caucus caught the media and no doubt it had an effect on their thinking later in the year to not ban X-rated videos. Ginger's most endearing memory of Australia was the Kangaroos at Rehwinkle's Animal Park. When later on, she saw kangaroo scrotums turned into coin purses for sale at the Regatta Point kiosk – she broke down in disbelief. "How can you sell the scrotums of your national emblem to Japanese tourists and at the same time ban sexual depictions of consenting adults on video? That's seriously fucked up!" she was heard to say. On her return to the US, she ditched her partner she had toured with - Penthouse photographer Eddie Holzman – and not long after began a relationship with actor Charlie Sheen.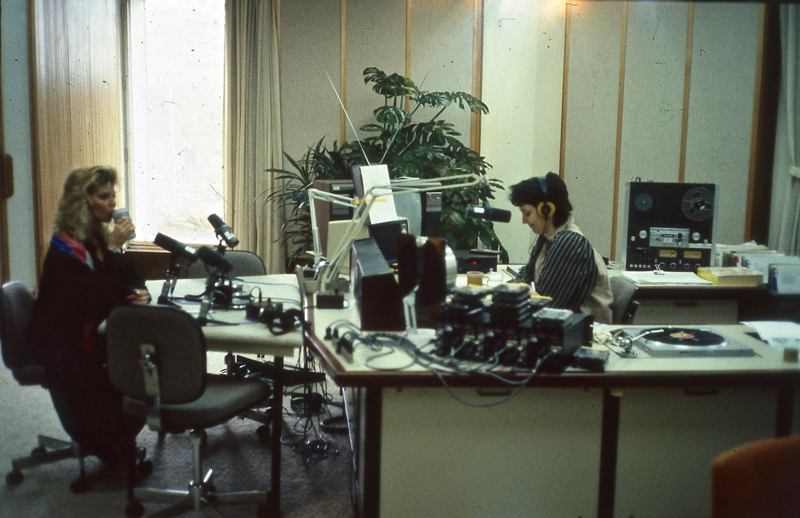 Ginger Lynn being interviewed by Pru Goward, ABC Studios ACT 1988 - Courtesy
Body Politics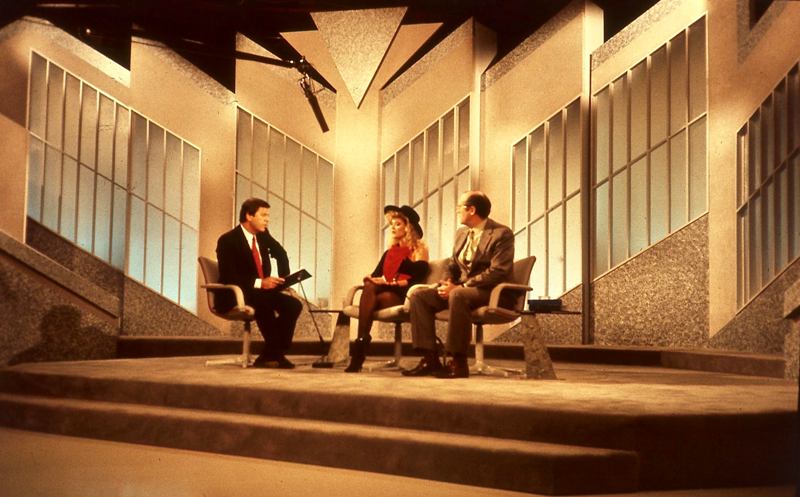 Ginger Lynn being interviewed on Channel 9's Midday Show by Ray Martin, alongside Chief Censor John Dickie 1988 - Courtesy
Body Politics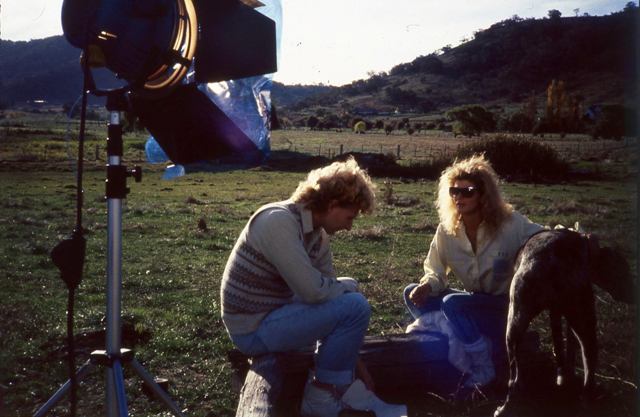 Robbie Swan on set with US adult actress Ginger Lynn at Burra, NSW 1989 -
Courtesy
Body Politics
Read an interview with Ginger Lynn below